Malcolm Shookner (ASI President) has an extensive background in community development, social research, health promotion and public policy in the non-profit, academic and public sectors. He has worked on many projects that use indicators to measure the quality of life, sustainability, health and well-being of communities. Malcolm was formerly the Chief Statistician for Nova Scotia Community Counts (retired), a provincially supported website that provided information for and about communities.
Karen Clarke is a social worker focused on public policy related to child, youth, family, and commun
ity wellbeing. She has worked for several years with the Department of Children, Seniors and Social Development with the Government of Newfoundland and Labrador (GNL), starting in frontline child protection and moving into project management and policy development. She's also worked with the Public Engagement and Planning Division with GNL as Manager of Youth Programs, working with various community and youth organizations. Karen is known for making connections and facilitating collaboration. She continually seeks opportunities to develop professionally and enhance her ability to positively contribute to a healthier society.
Robert Cahill is an experienced Community Support worker with a demonstrated history of working in the civic and social organization industry in Newfoundland. Robert started his career with community organizations as a relief worker at the Men's Shelter and the Lilly Program with Choices For Youth, followed by full-time employment with CFY's RallyHaven Supportive Housing Program and then the RallyForward Supportive Living Program. He spent nearly 5 years with Choices for Youth. Robert is founder and Executive Director of St. John's Homestead Inc., a supportive living/case management organization with a focus on lived experience in all levels of programming, and also serves as Director of Development for 3 Birds Shelter Inc., which offers emergency shelter in St. John's, NL. Robert Cahill was the 2017 recipient of the Paula Georing Memorial Scholarship for his work as a Housing First practitioner.
Susan Hartley PhD has spent a lifetime working as a clinical psychologist, an educator and human rights advocate. She has served in leadership roles in her profession, including as President of the Association of Psychologists of Nova Scotia, and in community volunteer work. Through her work and volunteering, Susan has been exposed to a wide range of human experience, and has developed a strong sense of social justice that has led her into activism, humanitarianism and politics. She was a long-standing director of the non-governmental organization, Canadian Women for Women in Afghanistan (CW4WAfghan), is a Rotary Peace Scholar, a conflict resolution professional and a consultant in community engagement and facilitation. Susan served as the Green Party of PEI's Shadow Critic for Health & Wellness from 2016 – 2019. Most recently Susan taught Adolescent Social-Emotional Health as a Sessional Instructor in the Department of Education at UPEI.
Cathy Leslie, Nova Scotia Health Authority, Community Health Board Coordinator has expertise in community development, program development and evaluation, working with non-profits and community outreach. She believes that small, rural communities form the essential character of Nova Scotia, driven by the rural values of determined effort, careful use of resources, and giving help to each other.
Linda Liebenberg, PhD., is a researcher and evaluator with a core interest in children and youth with
complex needs, and the communities they live in. Her work explores the promotion of positive youth development and mental health through development of community resilience, focusing often on initiatives driven by organizations and service providers. As a key component of this work, Linda reflects critically on how best to conduct research and evaluations with children and their communities, including participatory action research using image-based methods; sophisticated longitudinal quantitative designs; and the design of measurement instruments used with children and youth across multiple cultures. Linda has presented internationally and published extensively on these topics of research and youth.
Arianne Melara was born and raised in El Salvador and currently lives in New Brunswick, Canada.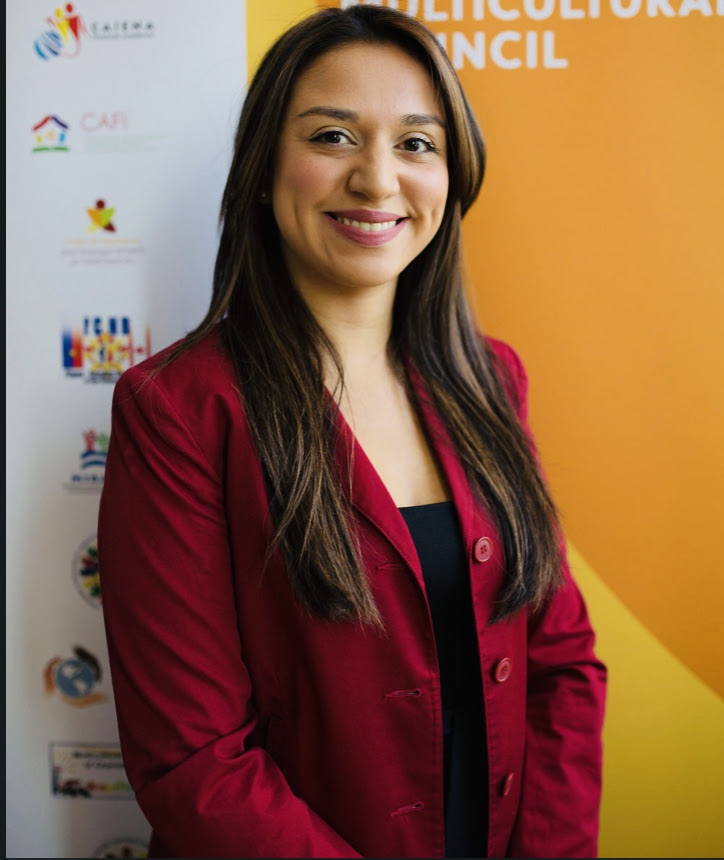 She graduated from St. Thomas University with an Honours Bachelor of Arts in Economics and International Relations. Her personal and professional background is characterized by her passion for diverse social issues and her strong dedication to make her community better through collaboration. Arianne has 6 years of experience working in the nonprofit sector. Before joining NBMC, she worked with an international organization supporting experiential service-learning programs with educators and students in Ontario. Arianne is the Manager of Youth Initiatives, Policy Lead and Stakeholder Engagement for the New Brunswick Multicultural Council, and one of her most notable accomplishments has been to lead the provincial and bilingual youth leadership program called Imagine NB. Some examples of additional initiatives she has led include Curricula advocating forrecommendations to improve how multiculturalism and immigration is taught in K-12 schools, including the contributions of immigrants to Canada and New Brunswick, as well as supporting educators in creating culturally inclusive and representative school communities. Arianne has received notable recognitions such as: her nomination for the Top 25 Immigrants in Atlantic Canada Award; being featured as a "Young New Brunswicker to Watch" by Huddle Today and as one of seven "Young Women of Conviction" by CBC. When she isn't at work, Arianne is sipping a cup of coffee, reading a non-fiction book, or hiking trails with Guacamole, her 4-month old, Weimaraner, furry son.
Youth engagement is at the core of Chantal Peng's advocacy and outreach. Going into her third-year as an Acadia University Bachelor of Music student, Chantal is actively involved in school and community. She serves as a Kings-Hants Youth Councillor, national Youth Advocate for healthcare and gender equality, and St. James Anglican Church Music Director. In summer 2019, Chantal had the life-changing opportunity to attend ASI as a Youth Leadership Program participant and returned this year as the Youth Leadership Coordinator. She was excited to engage with youth from across Atlantic Canada in this year's Forum.
Eva Sock is the Primary Health Care and Intergovernmental Manager of the Elsipogtog Health and Wellness Centre. She is on the Executive Management Team and also works with a team in the Health Information Management project, promoting the collection and analysis of health information for purpose planning and to improve community health and wellbeing. Eva is the chair of the Elsipogtog Consultation Group of the RCMP community based policing program, and a member of the national organization of the RCMP, providing advice and guidance in relation to the Indigenous perspective on policing. She is also involved with a number of projects working towards improving youth mental health in her community, and is currently a First Nation member of the New Brunswick Coalition on Mental Health. Eva brings experience with community development, community planning and intergovernmental relations having served as Band Manager of her community for over twenty years. Eva received her Social Work degree from St. Thomas University and has been involved in the helping profession for over forty years. She enjoys sharing the plight of her community, its aspirations and its dreams.
Patsy Beattie-Huggan (ASI Coordinator) is the founder and President of The Quaich Inc., a PEI based health promotion and consulting company. Patsy has a broad background in nursing education and health system redesign, and is firmly committed to building capacity within communities. Her creative work in health promotion, including leadership to the development of the Circle of Health, has been widely recognized.
Save